Our History
About our school
Valley End School was founded in 1859 by the Hon Julia Bathurst of Hyams Hall, Windlesham. She was keen to provide a school for the poorest children who had no transport. The land was donated by the Earl of Onslow and the school was built and equipped for £783, with annual running expenses of £35.
When the school opened in September 1859 there were 62 children and one teacher. The Bathurst family maintained close links with then school, often coming in to help with lessons or to provide treats for the children. St Saviour's Church was built in 1866.
Attendance was somewhat irregular in the early days as many children were required to do chores at home or on the farm. Illness was rife and cold weather would close the school. It was so cold in February 1895 that the ink froze in the inkwells! Up until 1951 the toilets were buckets that were emptied weekly into the Head Master's garden. A boiler house and outdoor toilet block were added that year and the school hall and kitchens in 1960. Temporary classrooms were added as the school expanded.
The original school building still houses the offices and Early Years classrooms. In 1995 major building works replaced the earlier temporary accommodation with a new wing comprising classrooms, library and indoor toilets. In September 1996 a new prefabricated classroom opened to house Badger Class and the Early Years classes were extended to provide more space and extra facilities in 1998.
2003 saw the opening of a replacement classroom for Badger, which included a conservatory. The outside area provided a rich and varied learning environment-in all weathers, including shaded areas, a pond, a sensory corner, and a beautiful Victorian garden enhancing the front of the school. Our large field and bordering woodland is a constant source of delight and stimulus for the child's imagination.
2013 saw the development of a new imaginative playframe in the school's main playground. Further developments then took place to the playground during 2016.
2022 saw the creation of a dedicated Forest School 'classroom' in our woodland area. Equipped with fire pit, log circle, slack line, mud kitchen, craft table, den building zone and outdoor toilet.
We are very proud of our rich history and are only one of a handful of schools who can trace their history through log books and artefacts of the time.
Key dates:
1859 – Valley End School Founded
1866 – St Saviour's Church built
1951 – Outdoor toilets and boiler house built
1960 – School Hall and kitchens built.
1995 – New wing built – classrooms, toilets, library
1996 – Pre fabricated classroom purchased
1998 – Early Year classroom extended
2001 – ICT facility opened
2003 – New classroom and conservatory built
2013 – New imaginative playframe
2016 – Playground developments 2019 - School is 160 years old 2019 - EYFS outdoor provision installed and opened by Bishop Andrew of Guildford 2022 - High fencing installed around school perimeter 2022 - Forest School Classroom created 2023 - New Library installed 2023 - Outdoor Prayer Psace created
New Library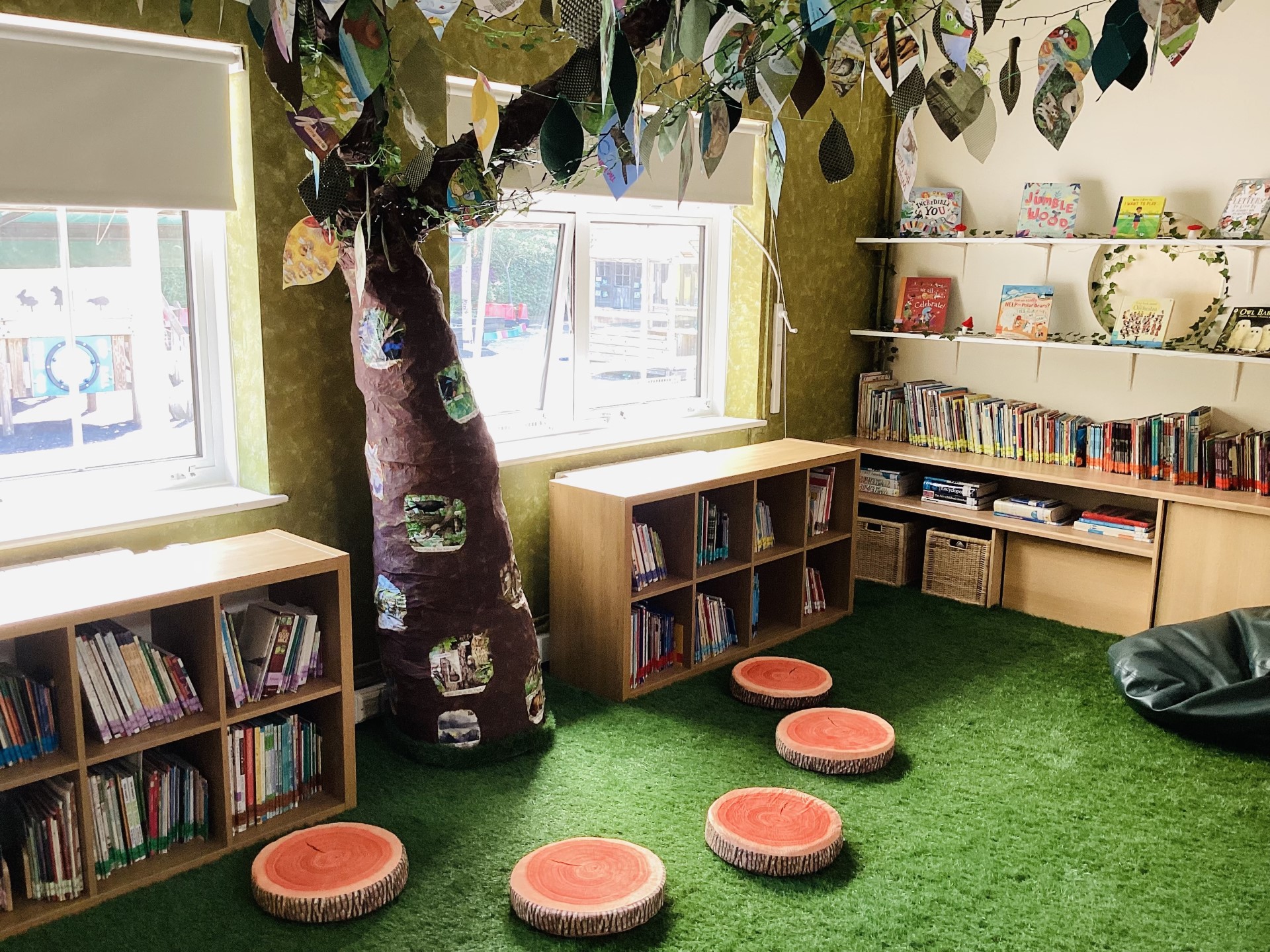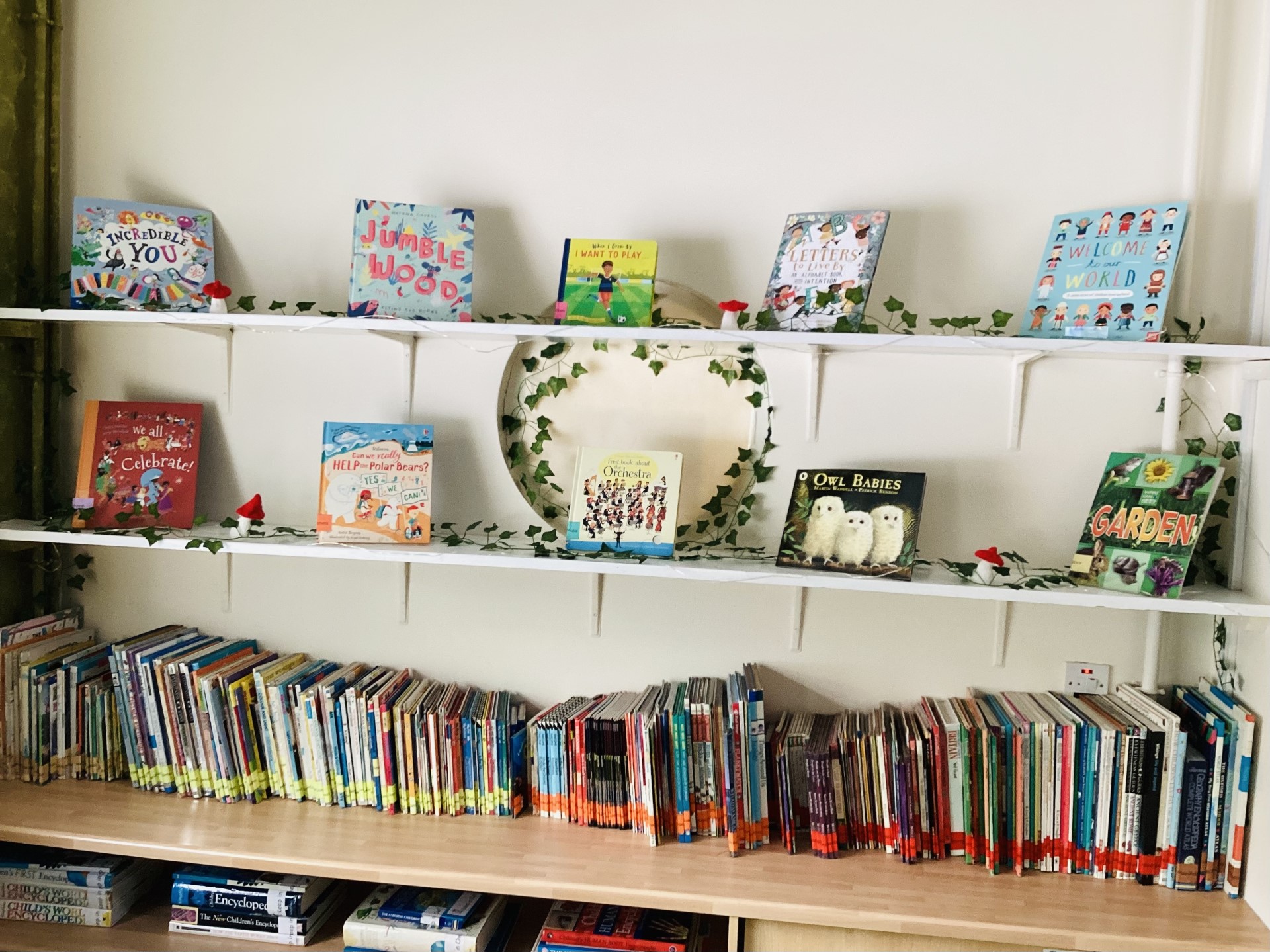 Outdoor Prayer Space